Special Events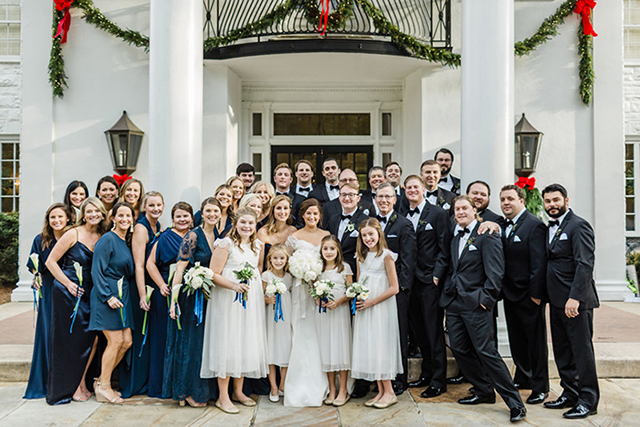 Special events are a very important part of the Table Matters' tradition and we've assembled a special calendar of designer appearances, signings, and exhibitions just for you. All of these events are held in-store.
Table Matters' registrants Mash & Trey share how they met, the creatives they chose to help them put together a beautiful wedding day, and the favorite pieces they received as gifts.
Bride's Full Maiden Name: Mary Ashley Powell
Groom's Full Name: Francis Donald Hamre III
I was out with a friend of mine who knows Trey and she told me that he wanted to meet me when he saw a picture of me. Trey was told the same thing, that I wanted to meet him. Trey and a group of his friends showed up at Parkside Bar and that was where we met for the first time. I shook his hand and then neglected to speak to him for the rest of the night. This same

group

hung out with each other a couple of weeks later and Trey left early to drop me off at my house because I was ready to go home. He asked me out to dinner the next day. -Mash
Wedding Date: December 14, 2019
Venue and City: Mountain Brook Club, Birmingham, AL
Honeymoon Location: Saint Lucia
Photographer: Leslie Hollingsworth
Florist: Mary Cox Brown, Marigold Design
Wedding planner: Louise Pritchard, Mariee Ami
Gown Designer: Martina Liana
Your Something Borrowed: My mom's diamond earrings, and my sisters veil
Your Something Blue: My garter
Your Something Old: My shoes
Your Something New: My dress
First Dance song selections: Bride and Groom: Save the Last Dance for Me,
Father of the Bride and the Bride: My Father's Eyes,
Mother of the Groom and Groom: It Happens in a Heartbeat
Bride's Occupation: Nutrition Student at the University of Alabama working towards becoming a Registered Dietitian, Also teaches indoor cycling at MPower Pilates and Cycle Studio and works one day a week as a Sales Associate at Three Sheets
Groom's Occupation: Operations Manager at AFS Canteen
Everyday China Pattern: Mixture of Simon Pierce Burlington cloud and Casafina Ibiza Sand
Favorite item purchased (or received as a gift) from Table Matters: ALL the Craven, the Abigail Gold Champagne flutes we used to toast when we cut the cake (pictured) and the Moser Pebbles Topaz Stemless Martini Glasses
Most practical item purchased (or received as a gift) from Table Matters: Flatware, Reed and Barton Echo
A Special Memory from the Day.... Ceremony and Reception were both held at Mountain Brook Club. The owner of magic city nutrition brought my family and planners my favorite tea to drink while we got ready. In the ballroom, the side opposite the band was covered in Christmas trees with white lights.
We wish these 2 a lifetime of happiness together!


Visit Table Matters and let us create a wedding registry that is uniquely you!
Be sure to follow us on Instagram (@tablematters) and Facebook (@tablemattersbham) for up to the minute info!